And We're Off... By That Much
Music In My Head: "In These Shoes" - Kirsty MacColl
We'll I'd better get this blog going or I'll never get started. This will just be a simple post to say "Hi!" to everyone in Blogland and give a quick rundown of who I am. I'm going to steal a little of this from my profile on
Bookcrossing.com
because... well why not?
My name is TeAntae and I'm a native New Yorker (more appropriately, I'm a native Long Islander), currently living in Maryland. My wonderful husband Bryan and I were married on 10/31/2002 (yes, Halloween) at Walt Disney World's Polynesian Resort on Sunset Pointe.
My hobbies along with beading include:
flamenco dancing
, reading, figure sculpting, cooking, and knitting, listening to music, traveling, and an ever growing list of activities. I'm not even going to pretend that I'll ever have a complete list because I'm forever discovering new and wonderful things to get into. I've done mail art, I've attempted to play classical guitar (must get back into that), I'm a sea kayaker, I'm slowly getting into camping, my husband is teaching me to ride a skateboard... See what I mean!?!
I want to focus on my artistic endeavors in this blog which will be predominately beadwork but some other projects may slip in from time to time. My hope is to one day sell my work, even if only a few pieces here and there. I'm also going to set my mom up with an account because I think she's a fabulous weaver (read: Fiber Artist extraordinaire) and she should communicate with like minded individuals. I'll add her link to my "Artsy Blogs" list as soon as she's all set up.
So now it's time to show something I've actually created so that I can put my money where my mouth is so to speak. This is the piece I submitted to Bead-Patterns.com for their
"Foot Fetish"
competition last year. To my shear delight and surprise, I WON GRAND PRIZE!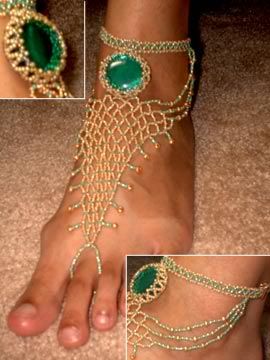 It's called "She Moves Across Sand". I love naming my pieces as well as certain focal beads that I have fallen for. =) I'd like to learn how to make really nice display boxes/stands for my work. Something else to learn!
Well, that's me in a nutshell. More to come. Fun to be had. Time to get back in my studio and create something!